Well, it's that time of year. I love it. The colors are changing and the fresh & crisp air reminds us of FALL!! I have to say it has been absolutely beautiful up here in the Northwest.
I am so disappointed though in myself. I didn't ever make it to the Pumpkin Patch this year. I am not sure why- other than adding an extra sport into the mix for two kiddos. And that was too much fun to miss out on.
But QFC had a wonderful selection at prices that were hard to argue with. So, we had a blast last night carving away. All in all, we carved 5 pumpkins. From big to little. Ethan had a blast and so did Kae and Brooke. Mom wore here rubber gloves-- and boy were they the envy of the night. Funnier how the older they get the grosser things seem to be. We used every kitchen utensil possible to get the "guts" out of those pumpkins. Not a spot in sight was safe from "orange slimey sphagetti." It was just too much fun.
Here are some fun pics...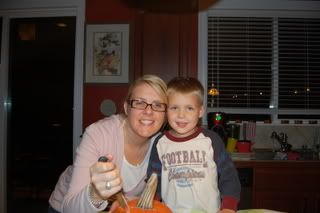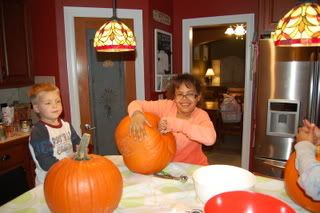 Brookelyn's finished pumpkin doesn't put out enough light to get a good pic in the dark but her's is super cute.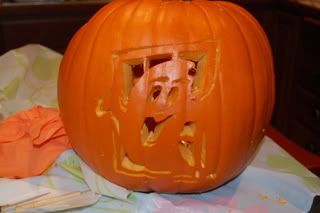 Mom's pumpkin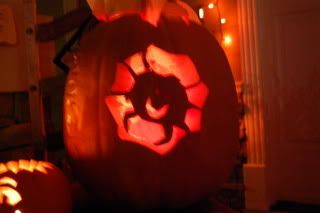 Dad's pumpkin
Ethan's pumpkin
Kaelyn does plan on taking his to the Wild West Fest at church tomorrow. They are having a contest and he even carved "I love Jesus" on his that the candle actually shines through. He was totally thrilled with how it turned out. This was the first year I let him do the carving part. He almost did the whole thing by himself. Not really sure where the santa seahawk hat came into the night but he sure is a cutie...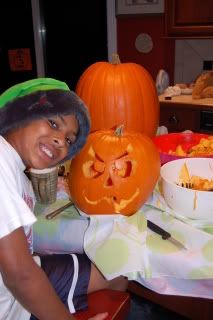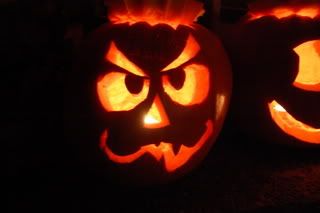 HAPPY HALLOWEEEN!! TRICK OR TREAT!!! HAPPY HALLOWEEN!!! TRICK OR TREAT!!!