So as many of you already know- I am a night owl. Not in anyway do I ever pretend to be a perky morning person. I crack open the diet coke and wake up after I have at least consumed that one. I need gentle persuading to wake up nicely. Well, we left Thursday morning at what I thought was 6:50- which looks a lot to a sleepy person like 6:05... when you don't like morning confusing that 5 and the 0 in your favor is never a good idea. We showed up after being picked up by my very loving and perky friend Tricia... :o) to the airport at 5:40
ish
. Checking in, all is good and this bell goes off when we are trying to check in our luggage... "oh dear!" she says. "You are late & you will never make your flight,"" as she is looking at the security line that might as well stretch out to the street where I just watched Tricia drive off . "But go and I will let them know you are coming at the gate." Well I am of course NOT a morning person and turn into a stress queen looking at the line wondering WHY DIDN'T SHE JUST ESCORT US TO THE FRONT OF IT????? We get through the line RUN to the gate where the plane is still there the gate attendant looks at us and says "there they are" and promptly says "but you can't get on they are gone." I was too tired from running and Martha Peace was sitting on my shoulder telling me to hold my tongue so not to embarrass my dear husband and mortify my children. The plane was still there and taxing backwards 3 minutes after my husband went to the lady at the desk to see about another flight. We were a whopping 4 minutes late to the gate. Yes, I was upset. But we got on another flight 10 minutes later that took us to Phoenix and arrived in Denver at about 4
ish
.
All was soon forgotten when we drove into SONIC!!! My diet cherry limeade was calling me. I was now in heaven and the flood gates literally opened up on us. It rains in Seattle but nothing like the
Midwest
. It poured buckets. The raindrops were as big as my head- not that my head is big but in comparison to the mist in Seattle the drops were HUGE!!! Lightening clear down to the ground that the thunder announced with such a roar. It was not our day but the Sonic it was awesome!!! I miss Sonic- did I tell you that??
It was so good to be with all of our family. I love my little brother. He is 9 years younger than I and such a dear boy to me. I got to see all his
rug rat
friends, whom I also adored. It was wonderful. I was most grateful to be with my dad again. I miss them both. So the wedding??? Dress rehearsal was fun and emotional toasts were given. It was great... but the wedding day...
WOW!! It was so beautiful. It is a ranch located (and For Sale-3Million) in Breckenridge, CO. Elk Ranch...
http://www.renttheranch.com/
Amazing views from every direction. It sits upon 50 acres of just awesome territory. You couldn't imagine a better setting. The weather even held out for the "I do's" and the reception.
Here is a beautiful picture of them at the alter area with the mountains in the back. My brother was so happy. Rachel is a beautiful bride inside and out!!!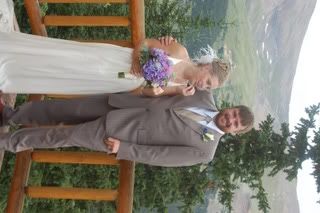 Here is a picture of our side of the family with the bride and groom.
I am standing next to my dad and his wife
Tonja
. My family is right with me- other than my daughter who is standing on the other side next to
Christy
my sister.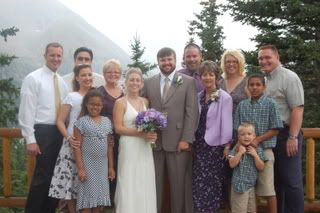 I can't wait to start scrapping the 150 pictures of just the wedding day that we took. It was such a wonderful day that we will all cherish for a very long time.
Until
next time... love ya!!!